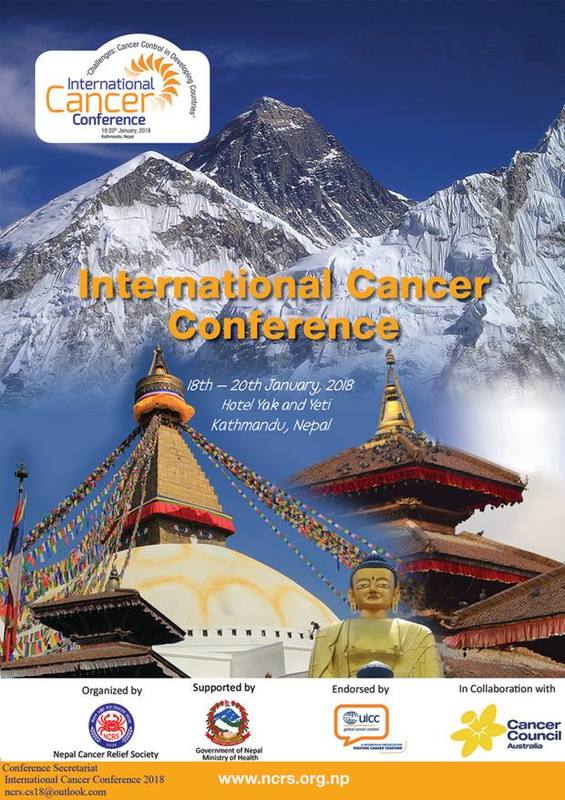 Nepal Cancer Relief Society welcomes you to attend the International Cancer Conference, 2018 which is going to be held in Kathmandu, Nepal during January 18-20, 2018 with support of Ministry of Health, Nepal, Union for International Cancer Control (UICC) and Cancer Council Australia. We cordially invite all the participants who are interested in sharing their knowledge and research in the arena of Cancer.
The conference aims to address the various aspects of cancer in current relation to establishment of a solid and feasible health care delivery system in our country. The aim of the conference is to bring together leading experts to exchange challenging issues in the field of oncology.
The theme of the Conference is 'Challenges: Cancer Control in Developing Countries'
The event will mainly be focused on preventive, promotive, rehabilitative and recent management strategies with inspiring plenary keynotes (National and International speakers from USA, Australia, Korea, Japan, China, Malaysia, Indonesia, UK, Bangladesh and India) combined with focused expert-led presentations and discussion providing attendees with the connections, tools and strategies for taking their research and care delivery to the next level. Apart from this, many oncologists from different specialty from Nepal, cancer survivors as well as different concerned authorities will take active participation in the conference. We hope that this will give new dimension to treat cancer patient in South Asian countries and upgrade oncology, not only in Nepal but globally.